Oodles of Kugels
Posted: May 31, 2011 By: Leah Jaffee

I'm a week behind in my life and frantically trying to catch up. Walking through the big box store today shopping for yet 3 more events, I decide that I need to get ahead of the game. Holiday after holiday may pass me by over the next couple of months....I'm heading straight to Rosh Hashana....soon. First, I want to post the results of the Kugel Throwdown that happened last week at Hillel. A joint effort of the Washington State Jewish Historical Society and JConnect, 15 contestants throw their kugels into the ovens. I learn a lot about kugels as I supervise the cooks in the kitchen.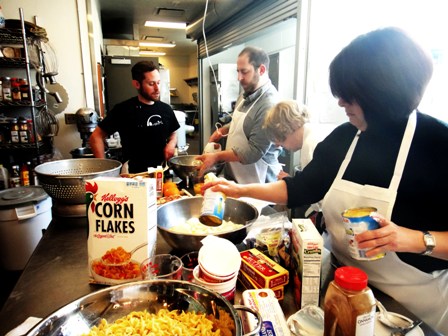 Guest Chef Joel Gamoran with his sous chef, and Carol with Joanne
As a reminder, let me mention again that I am a convert to Judaism. For twenty years, I have made kugels...but, certainly not like my Filipino Chinese Grandmother. She made lumpia, not kugel. My first experience of kugel is like this; I'm shul hopping before I convert to see what's what. For Rosh Hashana, I find myself at a very new age, inclusive, we've-written-our-own-machzor type of gathering. After services, there is a vegetarian potluck and I take a paper plate and get in line.
I don't have to worry too much about the Hebrew during services. However, I am walking the buffet line totally at a loss. Staring at the table before me, a voice from behind says, "Those are kugels." Hmmm. I was seriously thinking that it was a real shame that something didn't turn out but they were brought anyway! Reviewing the entries of the Kugel Throwdown, I think I was almost correct in my perception. THESE kugels are pretty awesome...gorgeous. To quote the winner about another recipe he shared with me, "It's not only to die for, it's probably to die FROM!"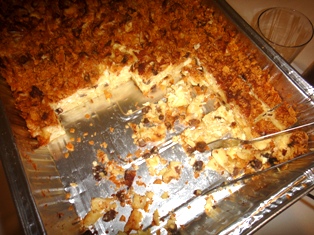 One of the EIGHT sweet noodle kugel entries!
Prior to cooking, I review the contestant's ingredients so I can advise everyone about kashrut as per the Va'ad. I see many similar recipes and I'm thinking about how this is going to work. Alas, similar recipes do not yield similar products and we have a real competition on our hands. The throwdown is divided between the savory kugels and the sweet kugels.
As the chefs come to cook, I make a note to self; those used to serving meat meals make pareve/savory kugels and those who are vegetarian/dairy oriented make dairy kugels. How do you compete? It's apples and oranges...or, potatoes and sour cream! I become fairly intimate with these kugels as I am the official kugel cutter. Just by cutting, I call the top 3 competitors to make the final judging. How? Their textures are correct, they cut easily and their flavor profiles are interesting. Once cut, the kugels line the room for the attendees to sample. The pressure is on!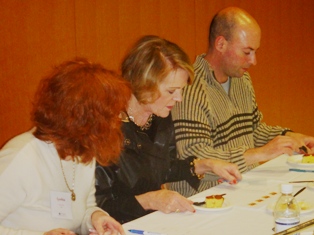 The official judges tasting the finalists
Rabbi Allan Cook makes an awesome savory kugel with fresh thyme, Swiss cheese, noodles and other rich ingredients. Fabulous! He also gives a fun d'var kugel. Guest Chef Joel Gamoran demonstrates a wonderful saffron infused noodle kugel with hints of ginger and cardamom. Beautiful! But the winner......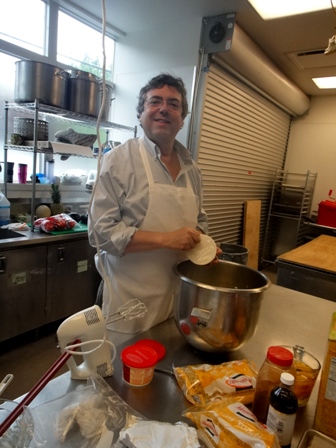 Marc Jacobson.... making his cheesecake-like noodle kugel. I have to get the recipe from Marc. I haven't properly researched the information for this blog...too much going on at the end of the competition for accurate records....and, I've been busy. As soon as I have it, you'll have it. Would be great for Shavuot! Mazel tov, Marc on really kicking some....kugel!