Big Sky - Happy Purim!
Posted: February 20, 2013 By: Leah Jaffee

It's been a couple of years since I've taken a real vacation. Booked solid for the past forever, a weekend is open. Unable to close the deal on a couple of events, I take it as a sign. I'm outta here! I don't have much time or the energy for anything exotic or faraway. I want air, I want space.....I want Big Sky!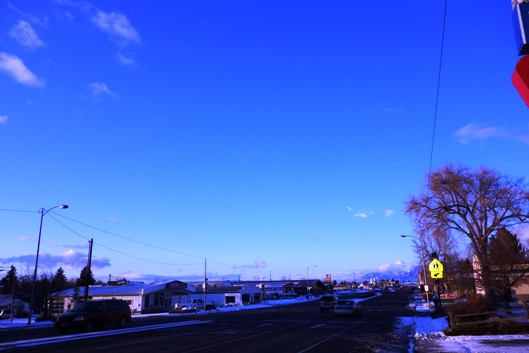 This is Bozeman, Montana. Hard to capture the expanse in 520 pixels. Hard to capture the 25' F not counting the wind chill. This small university town, gateway to Yellowstone and Big Sky skiing, is a few main drags. The terrain is so different from Seattle's cluster of hills and waterways. Flying into the airport, I see the town is situated on a plain flanked by mountains. Miles of deserted roads extend outward from the heart. I can breathe.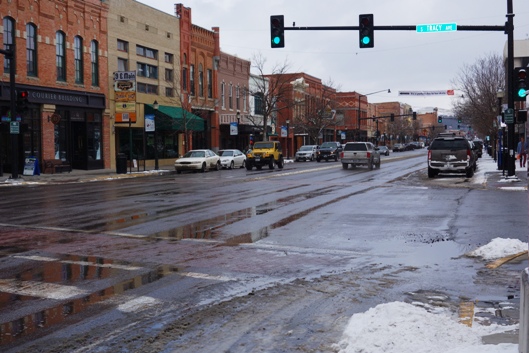 Downtown resembles other small towns dotting the West. My shoes aren't comfortable for walking in the crunchy snow. They could have been worse but I leave my Donald Pliner cowboy mules in the closet. Big city cowgirl seems a bit ridiculous in the Wild West. I find a comfortable pair of Dansko's and continue to explore. Time is short. Shabbat is coming and I have a commitment. Sleeping and reading.
As I wander, I start going through detox. I'm a Coca-Cola junkie and addicted to Starbucks. I'm also trying to cut back on calories and identify those two habits as potential weapons of self-flagellation. As it turns out, there is ONE Starbucks being built (or recently built somewhere). In Seattle, I pass four on the way to work; total distance 1 mile! And, Montana is a Pepsi STATE. Wowzers. Sort of explains things politically. Making my way down the street, I add "cold turkey" withdrawls to my to do list. This is shaping up to be quite the vacation.
As I continue to walk, I see a small Native man approaching. He's all smiles and laughs as he says, "You look warm!" Catching a glimpse of myself in a window, I look like a Michelin tire and Pillsbury dough boy rolled into one. I feel ridiculous but hey, I am not only warm, I'm hot! Yeah, yeah....great to travel where no one knows you.
Back at the beautiful airport, I wander the gift shop. I come across these unique chocolates by Marich. The Mint Chip MaltBalls are fabulous; all 230 calories of them. Yum. I love the look of the Coconut Curry Cashews but they make me want an entire Indian meal; Musaman Beef, please! (Yeah, I know - have to make it myself!) These would make great additions to Purim shalach manot. Too bad I ate them!
Flying home in the small plane, I'm sitting next to an Australian man. His son is across the aisle. They came to ski as a graduation present. His son has lost his passport. They have to fly to Seattle, then San Francisco to get a new passport, then to Canada, and then home. Wow, this father acts like he's just rolling along with what life dishes him. My daughter would have illegal alien status.
I arrive home after being gone only four days. On my way to baggage claim, my phone rings. "What's for dinner?"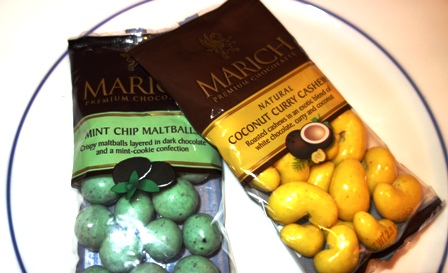 Marich Premium Chocolates
Happy Purim!