Taming the Great Outdoors
Posted: April 5, 2013 By: Leah Jaffee

If you're like me, you are brisketed and chickened out. Trapped indoors for the month of March, I take Wednesday as a personal day. I can't focus on my backlog of event proposals, let alone tackle the invoicing and general bookkeeping. I'm outta here! Tony, my chef and ex-landscaper, is more than willing to pickup some hours after the erratic schedule during Passover. Apartment dweller that I am, all I need is an overgrown yard to tackle. Fresh air and exercise; I know just the place.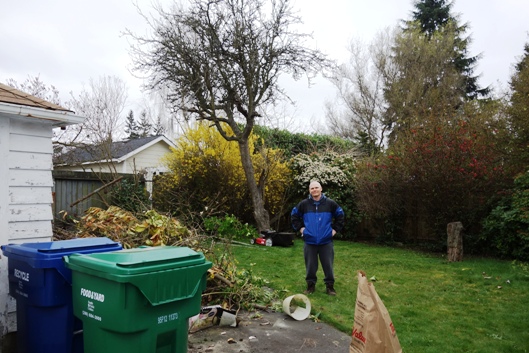 Meeting Tony at a friend's house, I see he's already started. A pile of cuttings is accumulating. To document our efforts, I snap a photo. Grabbing an inverted bucket, I get to work on pulling weeds. I know how to have a good time!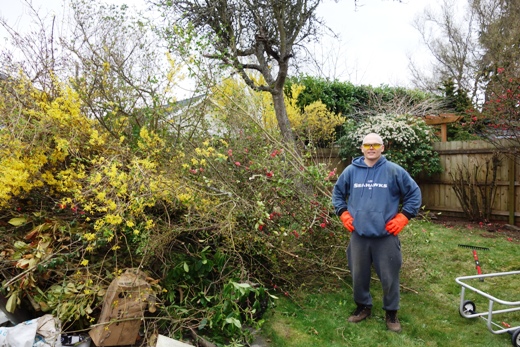 We are taking no prisoners. Overhanging branches; gone. Fugitive limbs escaping into the neighbors yards; gone. Optimistic trees, reaching upward bridging the roofline; gone. Ground cover camouflage for stealth raccoons; gone. The rotting apple tree stands in defiance. We can take it now or what for the next windstorm. Jumping into my car, I head to Home Depot. Swaggering into the rental department, I ask for an electric chainsaw like I know what I'm talking about. Yep, better throw in the protective chaps and hard hat.
Tethering 2 lines to the tree, Tony climbs the ladder roped to the chainsaw. His enthusiasm is dampered by my mathmatical calculations of debris flow and workman's comp claims. My friend, more tempered in nature, is only slightly nervous by Tony's and my unwavering energy. Falling branches and limbs only test the sturdiness of the fence. Chunk by chunck, the trunk falls with heavy thuds. It's high-fives all around; we've saved the bird's nest delicately situated in the bush.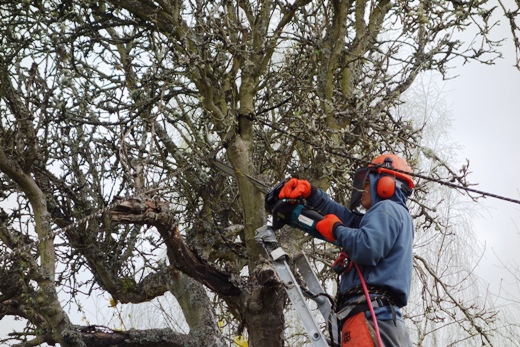 Yes, it is quite a pile of debris. We head to the giant laurel fence along the side property border. In a Zen trance, I study the branches and decide what we'll do.....what Tony will do; I have to get back to the office.
Thursday's rain leaves me indoors with piles of paperwork. Tony continues to amass yard waste. Rain means we can't load and dump until next week. The place looks like a hurricane has gone through but I'm thinking it looks like it did before, just everything is horizontal.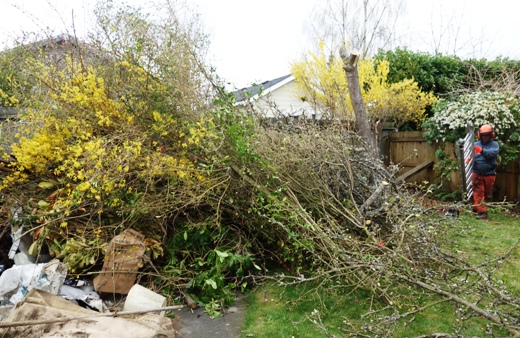 Reminds me of the time after I had given birth to Aviva. My dad stops by and drops 300 bulbs onto my porch. He tells me that they have to be in the ground by the end of the week. Yes, the apple doesn't fall far from the tree.
Anyway, back to the kitchen....more brisket and chicken AND strawberry rhubarb tarts!