"Larry Crowne" - College Days
Posted: July 3, 2011 By: Leah Jaffee

I frequently take my mother to the movies. Not working today, I pick her up 15 miles south of where I live and double back to the multi-plex closer to my neighborhood. Southcenter is closer to my sister's but I can't stand the sprawl of the huge mall and surrounding satellite discounters and chain stores. On the way back north, we zip through downtown on the freeway. Can't stop there either; parking is a drag. Five minutes further I can park easily and get my mother into the theater with few obstacles.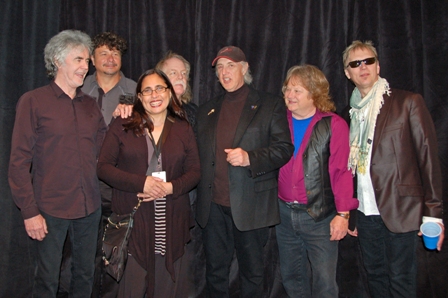 Three Dog Night (and Leah!)
Seeing ads for Tom Hank's self produced "Larry Crowne", I figure that I can sit next to my mom with few embarrassing and uncomfortable moments. I'm not writing a review of the movie, it is what it is and suits my needs. Essentially, it is a hopeful make-the-best-of-it look at what happens to DINKS (double income, no kids) when the economy sours and you find yourself 1) divorced or living with an immature bum, 2) with a mortgage higher than the value of your home, 3) going to college as an adult learner because of downsizing and, 4) are an alcoholic, uninspired educator looking for a change. A lottery winning neighbor of color who operates a perpetual yard sale serves to remind viewers that it could be worse; you could be African American. A note of irony, or perhaps poetic justice, suggests that possibly worse than all of the above is being forced to deliver pizza in your Beamer; magnanimity illustrated by the giving of an extra $2 tip to the guy who fired you. We made it in time for the 1/2 price first showing of the day.
I start thinking about college days. Finishing high school a year early at 16, I spend a year selling produce at The Pike Place Market. I want to be a fashion designer and the following year enter into Seattle Central Community College for a 2 year program. Custom Apparel and Design is highly regarded for sewing and pattern making. This is the early 1970's, ready-to-wear has begun its assault on the dressmaker trade in Europe. We're lovin' polyester, one size fits all. Jobs exodus overseas to Asia. I'm learning a dying art. I'm still a seamstress in the couture sense of the word though I rarely sew anything.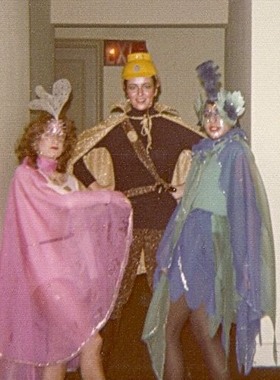 Rubin Hall Roomies, Susan Bird and Kathleen Usherwood, 1975
Two years at the community college and I apply to Parson's School of Design in NYC. Small town girl heads to the Big Apple with the proverbial $25.00 in cash and a school loan/grant at the other end. Sue, my roommate is a Trekkie and Broadway fan. Kathleen is our next door neighbor and we hit it off from the start.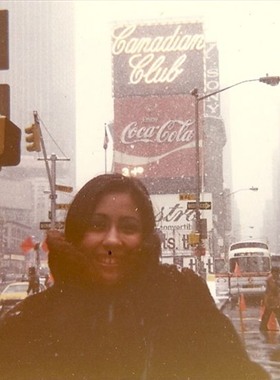 Times Square!
Parsons is an intense school. Long hours and very competitive, we aren't on the party circuit. Halloween at an art school is about a fun as it gets; the rest of the time is hard labor. The point I'm making is that I didn't have mindless 'fun' in college and didn't get a 'real' Liberal Arts degree.
A couple of years later, I'm back in Seattle working in the local skiwear industry. I'm offered a job in Salt Lake City as designer. I'm 22 and about 50 jobs and a few million dollars (lots of money back then) starts with me and my skills as designer to keep the factory in business. Hard to believe that someone would trust a kid with that much responsibility! For an over-achieving workaholic, I'm having fun of sorts. Similar to "Larry Crowne", I'm driving a Puch moped replete with windshield and wearing cowboy boots.
Six years ago I go back to college for the heck of it. Over 4 years I take all the basic courses in biology, astronomy, English, psychology, acccounting, etc. I even have to revisit all the general math courses. Algebra online is great. I love it. I'm an adult learner studying for the pure sake of knowledge itself...and, just possibly I might do something else when I grow up. Thirty years of history, ideas, science and art evolve while I live my life. Eco-feminism; who knew?
I take a 10 credit class linking the ecology of the Puget Sound bioregion with literature of the area. Non-fiction, Native, poetry and novels explore the diverse history and culture of my birthplace. I do all the assigned reading a week before the course starts. I unpack "The Living" with page after page of outlined sub-topics to jaw dropping reaction. I'm a pain in the rear redeeming myself with a final project on salmon: a catered meal for 50 representing different cultural preparations. I get my 4.0 with the same ferocity I used rate busting my way through factory jobs to support myself through college the first time.
Writing my first assignment for the course, the instructor pulls me aside and asks who I write for, what paper? I tell her I'm a caterer. But I start thinking that I love to write and continue to take a few more courses. I enjoy writing and this website is born.
In the middle of accounting 202, I realize that I need to spend some time on other areas of my life. I'm never going back to a corporate job so I really don't care to do case studies. I decide to date.....so, yeah, I'm watching "Larry Crowne" and I think "photography, food photography....that is what I should study."
Someone asked me when I was in school why I was there, "Aren't you done? Finished?" Whoa.....I'm still breathing! I recently saw The Three Dog Night and remembered days when so much of life was ahead. G-d willing, so much of life is still ahead....