The Bali Group
Posted: February 8, 2011 By: Leah Jaffee

I've been in Bali for a week and have left the hotel ONCE! This is odd but I've been in seminar from 10:00 until 6:00 pm. I refuse to go out in the dark and since I'm keeping kosher, I don't have any reason to run around looking for places to eat.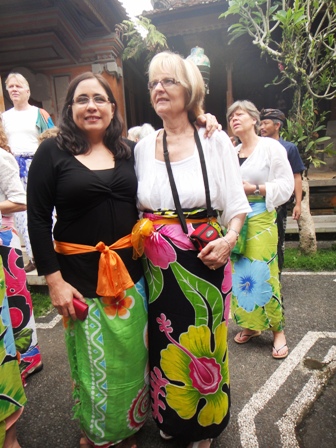 Karen from Australia
I did join the group for an all day excursion up into the center of the Island. I didn't quite have the same experience as the others as I didn't feel comfortable taking part in a blessing ritual and a dip in the 'mikveh' followed by another blessing ritual performed by a Balinese high priest. I find that the ritual practice of Judaism is elegant and meaningful...no need for spiritual sightseeing. So, I spent considerable time wandering the small village and wandering the temple compound. Bali is a 3rd world country so, despite its mystery and intrigue, poverty is prevalent and it feels ostentatious to even walk about.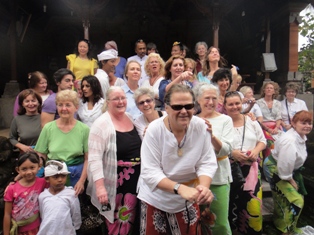 This is a group shot of many of the folks on the tour and in the seminar. The gentleman in front is our group leader Alan (a Kohen) who is teaching about the esoteric dimensions of the ancient wisdom. In short, I'm learning how to read Buber....and, we are all learning to raise our consciousness. All sounds so 1960's, I know. But, what the heck. The fellow in the back, 3rd from the left is the high priest.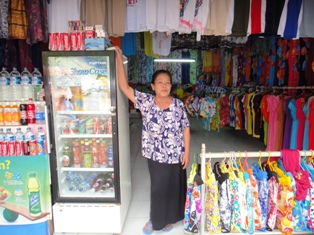 The temple with the 'live body of holy water pool' is on sprawling grounds. I ran the gauntlet of trinket vendors, banana peddlers and settled down to wait with this woman. She is a real trip, laughing and apologizing for not knowing much English. I had to apologize for knowing ZERO Balinese. Anyway, it was about 90' and I was hot, wearing the black top pictured above. She was admiring my shirt with such longing and talking about how there is nothing so beautiful in Bali. Melting in the heat, I thought that I could use a much cooler outfit. We traded. I gave her my top for a batik dress that will never see the other side of the Pacific ocean! But, it was much cooler.....