"Apocalypse Now, More than Ever"
Posted: June 11, 2011 By: Leah Jaffee

My friend Harvey is a poet, writes hybrids of political haiku and Subaru bumper sticker. The title of this blog is from a collection of his I recently read. It stands out in my mind, "Apocalypse Now, More than Ever." The news of nuclear meltdown in Japan after earthquakes and tsunami. Volcanos. Tornadoes. Heat waves. Forest fires. My equalibrium is thrown off kilter. I'm glad to be working, glad to have 400 people to feed this week. Nose to the grind, I can take a break from real time disaster and heartbreak. Cooking is my escape, my oasis in time and space.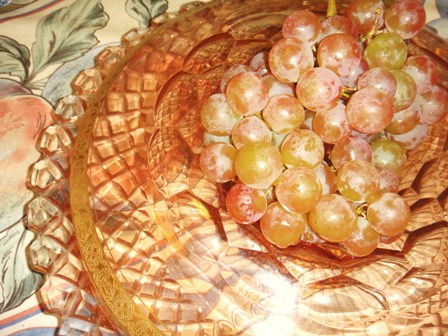 My preference is to see the world through rose colored glasses. Lots and lots of pink depression glass collected from here and there. Finding berry bowls in an antique store in Bali, I carefully wrap them in paper and carry them home. Bekah gives me the bowl pictured above, bringing it home from a small town south of Chicago. I have pieces from an old railroad station in Idaho. A tiny dish with a miniature photo of Benoit's hometown in France. I have candy dishes from Oregon, salad bowls from California, platters from New York, and juice glasses from Florida.
I love looking at the pieces, odds and ends that have sat undisturbed on high shelves in unknown places for years. Of little monetary value, this glass survives a global past on par with our collective future. Setting the table with china, I complement it with pink wine and water glasses, salad plates and serving pieces for cold foods. Shabbat, an escape from harsh reality, even more ethereal with rose colored glass.