We are consistently voted "The Best Kosher Caterer" by local JTNews readers. Since my Orthodox conversion 18 years ago, I am dedicated to elevating the expectations consumers have about kosher food. The community has been supportive of my catering service in a way that goes beyond business as usual.
It is my good fortune to be from Seattle, a city renown for its foodies and eclectic social conscience. Within this Jewish community, we have a long-standing Ashkenazi and Separdi blend of food and ritual. I learn from some of the best Jewish mothers in the city ~ young and old! Through the pages of this website and over time, I look forward to expanding my own learning of the foods Jews eat; classic and trendy, vegetarian and vegan, gluten-free and dairy free.....and, all kosher.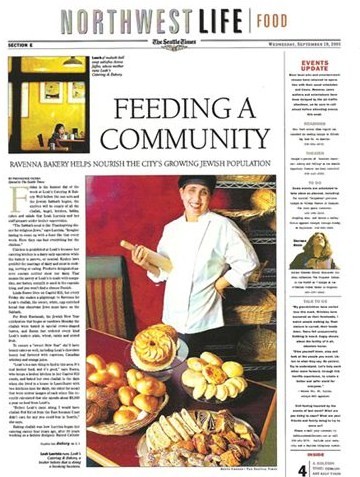 All aspects of Jewish life are expressed with food, both traditional and trendy. Kashrut adds layers of holiness and meaning. Join me in a community of Jewish cooks who are excited to share their regional specialties and global perspectives on food in a Jewish context. Become a Supporting Member ~ its' FREE! Build your profile, share your recipes and feel free to contact me with questions, requests and comments.
May we all be blessed for the love we share through food ~ Leah

Ahead of Your Time
Posted: February 2, 2011

I'm in Bali ~ sitting on the balcony level of my very nice hotel overlooking the main lobby entrance. Not only is this the only place to get free wi-fi, it is prime real estate to see who else is staying here. So, the ulitmate multi-tasker that I am gets to both sight see and work.