Life Cycles
Posted: May 9, 2012

Yesterday, being the first bona fide work-is-optional day since well before Passover, allows me to attend the funeral of a young 40-something mother in the community. Alternating catering funerals and brisses over the past weeks, I'd felt small relief that births outnumbered deaths. My unofficial statistic offers little comfort when confronted with the life-is-optional reason for joining the community in burying one of our own.
My work doesn't often offer time for being on the rejoicing end of a simcha. The back of the house is where my energies are spent. I consider it an honor to assist and suport a seamless celebration of a Jewish lifecycle event. I miss countless weddings, bat mitzvahs, bar mitzvahs, shul dinners and school auctions. I try to never miss a funeral in my immediate community. As a convert, I find the art and functionality of the Jewish burial intensely real and quietly intimate. As friends and family shovel, the sound of metal on rock, gravel on wood fills the hollow of uncertainty within my soul. I don't know what lies beyond. We release the dead and comfort the living. Funerals are important and a community matters.
The Rabbi spoke with eloquent familiarity having been a mentor and friend of the deceased and her family. Speaking with authority, offering insight, wisdom and consolation, his words are heartfelt. He ends his eulogy with encouraging words that in the face of ultimate loss and grief, choose to love more not less and choose to give more, not less. Let us say, Amen.


Freeze!
Posted: April 4, 2012

We've been in Passover cooking mode for 6 days and we are almost done with what can be done ahead. Meals for about 1,800 and only 3 of us cooking; not bad. The magic word is freeze....everything. Gefilte fish, chicken soup, matzoh balls, brisket, chicken complete with marinade, salmon already boned and portioned, kugels and dessert. We couldn't do 300 - 350 people a day for lunches without the ability to prep ahead.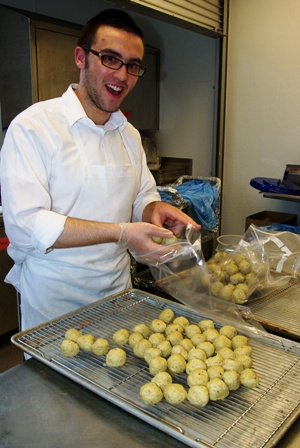 Hillel Meyer packaging matzoh balls for the freezer.


Ready for Passover
Posted: March 29, 2012

There is something to be said for tradition; makes doing something over and over again that much easier. It's been a crazy busy first quarter catering. Cleaning for Passover was supposed to be an easy breeze as the University of Washington was on spring break last week. Less hectic in the kitchen, I start to strategize the clean.
With the end of Purim comes a more deliberate way of moving about the kitchen. Odds and ends of miscellaneous ingredients are either used, discarded or set aside to be given away. Every motion includes a minor nod towards the end goal of a spotless kitchen.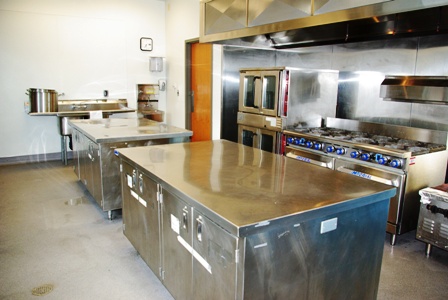 Thanks, Sam!
Posted: March 18, 2012

It's 4:00 pm and I know that for some March Madness has set in; I'm working on pre-Passover insanity. Readers want new recipes for the holiday and they are coming. That said, I must order ingredients for my upcoming 1800+ meals or there won't be anything to use in cooking. In order to clear my brain, I need to clear my email accounts. I was looking for this email in my files earlier and here it is in the 'inbox'.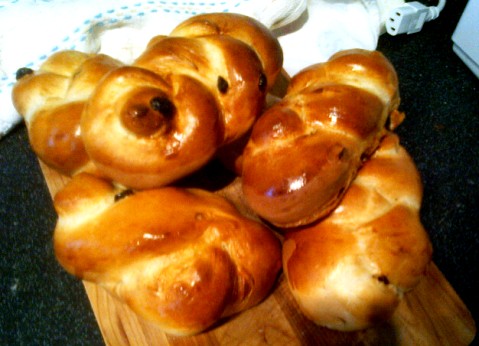 Sam's challah rolls


Planning an Event Menu
Posted: February 16, 2012

I spend a lot of time in my head. Even when I'm in the kitchen I'm in my head. It isn't exactly meditative, nor is it 'in the moment'. I'm a caterer, everything is time sensitive. What's being made in the moment needs to be done in five minutes. One party is barely a wrap and the next one starts. If I'm not cooking a party I'm planning a party. We live for that moment in time that is coming, not this moment that is flying by too quickly.