Swedish Spread Kosher Style
Posted: June 4, 2012

Think smorgasbord; not the giant spreads proceeding some Jewish weddings laden with potstickers and carving stations. This is Seattle and we have real Swedes here. While they combat assimilation and gentrification like the rest of us, a smorgasbord at The Swedish Club better look semi-authentic. Never mind that the caterer is a Jewish convert of mixed ethnicity cooking kosher. Think smorgasbord without pork and without meat and dairy cooked together. Okay, think Jewish kosher with a nod to Sweden; it's as close as I can get.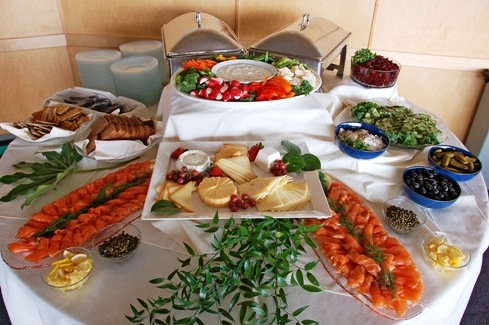 Gravlax in the foreground


Maximus-Minimus
Posted: May 16, 2012

Catering kosher in Seattle requires a ton of running around in a 12 mile loop. Smaller events need a little of this, a little more of that....all kosher, of course. Large events aren't much different. Food distributers don't carry much kosher. My shopping list is divided into 5 - 7 stops. Shopping is part of the process and, it takes a trained eye to always check for the hechsher. Benoit is great at all that running around especially when I need to be in the kitchen. Otherwise, my 'half day off' is spent in the van driving here and there in search of not only what I need, but new products.
A very special place in town is Pacific Food Importers. The owner is an older Italian who has been bringing foods from his homeland for decades. PFI is a distributer but I rarely need a truckload of anything. The warehouse, down the street from the retail outlet, is just another quick stop on the loop. The store is most understated fun and has morphed into a second-hand showcase of Italian/Mediterranean specialty foods. Their 30 foot cold case of exotic cheeses is impressive even if off limits.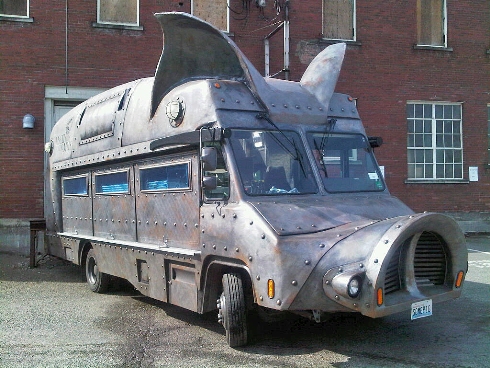 Maximus-Minimus


A Tribute to the Jewish Mother
Posted: May 9, 2012

And now, a message to our sponsor Wissotzky Teas ~ thank you for sharing the video tribute. I see Wissotzky Teas and I think Jewish. I see gift boxes of your tea, I think Passover. I like your tea, I like your packaging......
and, my reaction to the video had a Rachel Maddow sort of "huh?" about it. Was that "The Twilight Zone" theme song?
I did share my concerns with Margelit Hoffman of Hoffman Productions who had forwarded the video link to me to share. I wasn't sure I could get onboard with genuine enthusiasm for the video. Yes, I'd love to have someone make me a cup of tea at the end of a long day....as opposed to the 5:00 am Starbuck's crew down the street propping me up after a long night.
But, I have a bit of an issue with the visuals. Every element is elevated to certain unobtainable perfection in my chaotic life. The beautiful woman, more distressing knowing that this is how she really looks, can only be described as "Eishes Chayil on Steroids". I watch this video and I need something stronger than tea, something with a red label and clear.
I'm a "Mad Men" devotee and let the TV run into "The Pitch" while I worked the other night. I'd pay tribute to the Jewish mother with different visuals. Keeping the same soundtrack, I'd like to rework the pitch:
Here's to the mother, the unsung hero who takes on: (wake up at 6:00 am and hit snooze a couple of times)
challenges large and small (show kids aged 2 - 16)
bringing it all together and making it happen (ordering bagels and schmears at the deli)
you wear many hats (a knitted tichel)
and play many roles (drop kids off at school and then teach at same school)
you're a chef (reheat deli)
a homemaker (learn Spanglish)
a stylist (1 day sale)
a chauffeur (mini van that seats 10)
a hardworker (auction chair)
a baker (weird shaped challah and flat cookies)
a doctor (physicians assistant - call the doctor!)
a nurse (Benardryl cures everything)
a fashion designer (smooth wrinkles from clothes out of hamper)
a photographer (take baby photos out of cardboard frame by bar mitzvah)
a spiritual force and revered role model (a force to be reckoned with)
you alone hold the key to your family's heart and soul (it's under the mat!)
and no one else can take your place (call your dad!)
the only occupation that can't be retired from or delegated to anyone else (but can I quit?)
yet, incredibly, you wouldn't have it any other way (INCREDIBLY!)
and while you never want to take a break from being a mother, we think you deserve a break while being one (a week in Mexico - great!)
Tea time is me time, enjoy your moment (s)
Thank you for all you do. (You're welcome!)
To my beautiful daughters, I say "I love you" and you know your mom is silly. Thanks for not quitting being my kids!
Oh, here's the link to the beautiful video:
"Tribute to the Jewish Mother"


Life Cycles
Posted: May 9, 2012

Yesterday, being the first bona fide work-is-optional day since well before Passover, allows me to attend the funeral of a young 40-something mother in the community. Alternating catering funerals and brisses over the past weeks, I'd felt small relief that births outnumbered deaths. My unofficial statistic offers little comfort when confronted with the life-is-optional reason for joining the community in burying one of our own.
My work doesn't often offer time for being on the rejoicing end of a simcha. The back of the house is where my energies are spent. I consider it an honor to assist and suport a seamless celebration of a Jewish lifecycle event. I miss countless weddings, bat mitzvahs, bar mitzvahs, shul dinners and school auctions. I try to never miss a funeral in my immediate community. As a convert, I find the art and functionality of the Jewish burial intensely real and quietly intimate. As friends and family shovel, the sound of metal on rock, gravel on wood fills the hollow of uncertainty within my soul. I don't know what lies beyond. We release the dead and comfort the living. Funerals are important and a community matters.
The Rabbi spoke with eloquent familiarity having been a mentor and friend of the deceased and her family. Speaking with authority, offering insight, wisdom and consolation, his words are heartfelt. He ends his eulogy with encouraging words that in the face of ultimate loss and grief, choose to love more not less and choose to give more, not less. Let us say, Amen.


Freeze!
Posted: April 4, 2012

We've been in Passover cooking mode for 6 days and we are almost done with what can be done ahead. Meals for about 1,800 and only 3 of us cooking; not bad. The magic word is freeze....everything. Gefilte fish, chicken soup, matzoh balls, brisket, chicken complete with marinade, salmon already boned and portioned, kugels and dessert. We couldn't do 300 - 350 people a day for lunches without the ability to prep ahead.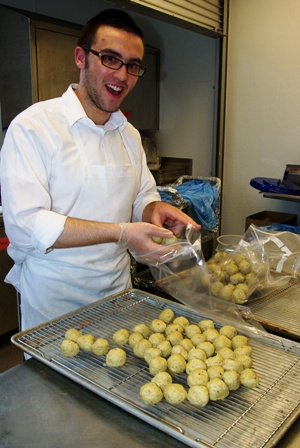 Hillel Meyer packaging matzoh balls for the freezer.