Natural State Rice Bran Oil - A Miracle Oil
Posted: February 5, 2013

I am remiss. Yes, remiss...period. Everything has fallen to the wayside that wasn't a wedding, bat or bar mitzvah or major organization catered event. A coming weekend reprieve allows me to sit a minute and collect my thoughts. Where was I?
I was amazed, and am still amazed, at Natural State Rice Bran Oil. Standing in my booth at Kosherfest last November, Jeff Levi approaches me with the magic oil. Pulling the bottle from his bag (I don't think it was a trench coat), he asks if I've ever heard of, or used, rice bran oil. Nope. He has my attention from his first statement: "It has a smoke point over 450 degrees." Whoa! If there is one thing a commercial chef wants is an oil that doesn't smoke and burn and can handle batch after batch during production. It's love at first sight.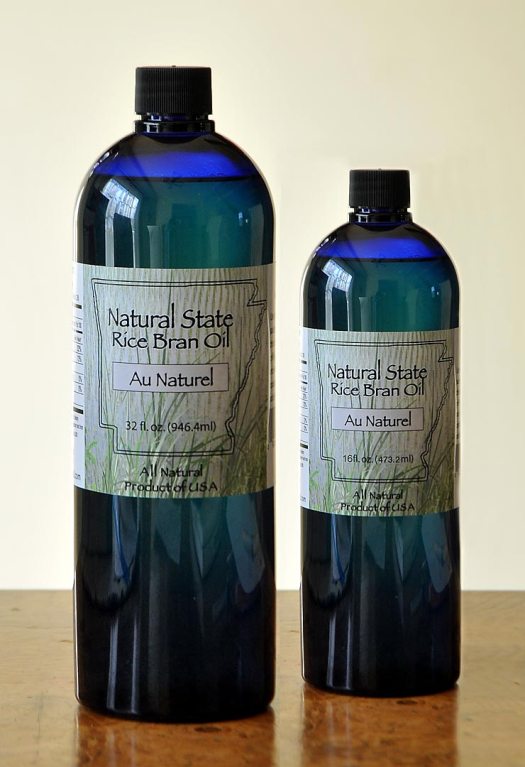 Natural State Rice Bran Oil


QFC - University Village Kosher Spirits
Posted: January 5, 2013

I usually wander into liquor stores about once a year around Honey Cake season. I'm far too much of a control freak to let alcohol gain a foothold on my psyche. A little of the low alcohol content Bartenura's Moscato d'Asti now and then at shul is nice. But then, that whole designated walker thing is an issue when you live 2 miles away.
One couldn't even buy beer on Sunday between 2:00 am and noon or something crazy like that up until very recently. I find that out when I need beer for beer batter fish and chips. Brother. Feeling humiliated and demeaned as I'm chastized for attempting to purchase alcohol, it is unseemly to get belligerent. It has been said that sleep deprivation has the same affect as a high blood alcohol content. Hard to argue that I look like I do because I cooked all night....and, oh by the way where I go to pray everyone drinks and that was yesterday. Yes, I'm not much fun sober and I don't think it would be any better if I drank.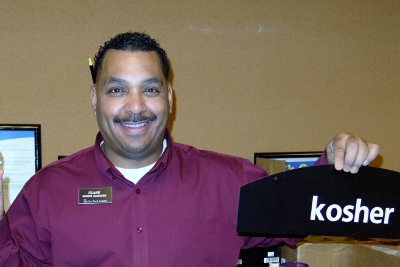 Dennis Warshal Cooks Kosher for Leah
Posted: December 23, 2012

It's year end, and what a year it has been. Business is, thank G-d, busy and busier. My only regret is not having had as much time to cook, post, write and make videos. There is always next year; G-d willing! I am planning a schedule and hope to stick with it. What inspires me? Those who try my recipes and let me know how things turn out.
I'm thrilled to know that Dennis Warshal has begun a new Chanukah tradition at his home; Spring Rolls! He has shared some photos and I'm honored to show them here. Dennis is a sculptor, custom florist and event ambiance designer. And, apparently, food stylist.


It's Chanukah! Time to Order for Passover!
Posted: December 4, 2012

Yes, I'm scrambling....weddings out to June already on the books. I need to post for Chanukah...watch for my secret ingredient to successful everything fried coming this week! I notice in my inbox that I have the order guide for Passover. Must be Chanukah, must be December, I must be nuts.
Further in my inbox I find images of one of the Best New Products at Kosherfest. This image of Dyana Furmansky standing by her product "Matzolah" - yep, billed as "The Trail Mix of the Exodus!" makes me laugh. This is seriously good food despite all the whacky fun Foodman's team is having marketing.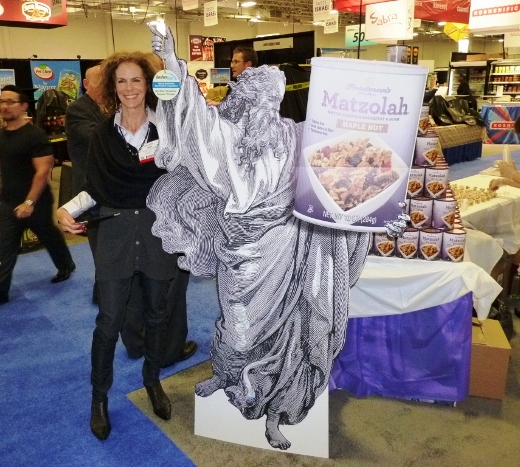 You'll want to fill your shelves at Passover with this item. It's gourmet granola made with matzoh sans the Birkenstock's. I'm thinking Matzolah brittle, Matzolah turtles, Matzolah crisp, or Matzohlah on top of ice cream. And, I suppose there isn't a halacha against eating it the rest of the year. I'm one of the lucky ones to have my own personal can NOW. Now, as in as I browse the order guide for Passover.....that is due this month!


"GoyofKosher.com"
Posted: November 27, 2012

It's been a scramble since returning from Kosherfest. So many ideas; so many events to cater! Last week, with 450 meals to prepare for a Bat Mitzvah weekend of events, Thanksgiving throws a wrench into my production schedule. Reminiscent of the old bakery days, this secular Thursday holiday is usurped by more pressing obligations. Sending my kids off to family, I drown my sorrows in pumpkin pie; yep ~ 2 of them. I ate 2 pumpkin pies in 5 days.
Alone in the kitchen with the airplane droning sound of the range hood, the intermittent cycling of the refrigeration motors, the periodic ice falling in the ice machine and with Edgar Allan Poe heart trobbing and mental anguish as I watch the clock consume Thursday, I hear my Blackberry ping ~ I've got mail.