Where Have I Been in My Life???
Posted: October 17, 2013

It's 11:30 pm but I told myself to get back into the groove. I thank you patient readers and faithful users of the website. What has happened these past 6 months? As an official AARP member of the sandwich generation, I have been catching up on life.
My daughter Aviva graduated high school and I've gotten her settled in film school.
My mother's Alzheimer's has worsened and I spent every day between yontif that I wasn't cooking moving her into a safe, beautiful assisted living facility.
After 2 1/2 years without a real vacation, I took a few weeks off this summer. A rare opportunity for recharging coincided with a break in my catering schedule so I jumped on it. Two weeks on Washington's beautiful Hood Canal, another week in Marin County north of San Francisco was indulgent and necessary.
My siblings and their spouses all pitched in and revamped my mother's home for sale. I don't know if a work ethic is genetic but to the extent each of us had time, we compulsively cleaned, painted, and gardened until the house sparkled. It looks great.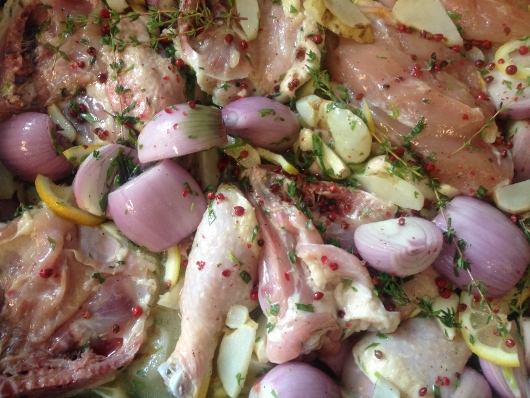 Making Kosher Salads
Posted: April 23, 2013

One of the unexpected consequences of writing this blog is the incredible increase in the catering business (Thank G-d, thank you, customers). Originally, closing left the community without a bakery and erev Shabbat take-out counter. "What do we do now?" was more important than "What are you going to do now?" I thought that if I showed people how easy it is to cook and bake, if I gave them my recipes, if I made videos for some of the items, that everyone would be happy.
Since then, I've had the self-realization that very few people's happiness is dependent on what I do! In fact, some people's frustration is very dependent on what I don't do. For instance, the 7-layer cake isn't an attractive project unless I'm doing enough for 250 people as a dessert to a caterered dinner. The way I make it is too involved, too time consuming. Someone calls and asks if I will make one. I mention that the recipe and video are on my website. They reply that they know that and that is why they called. They don't want to make one and her friend from New York really loves 7-layer cake. She wants to give one to him for his birthday. I explain that it isn't cost effective to make just one cake. I'd have to charge a fortune. "How much is a fortune?" With all the Microsoft gazillionaires in Seattle, I think for all of 2 seconds....bottomline; I really can't make just one cake. I need some time to work on the website. Sigh, another dissatisfied almost-customer.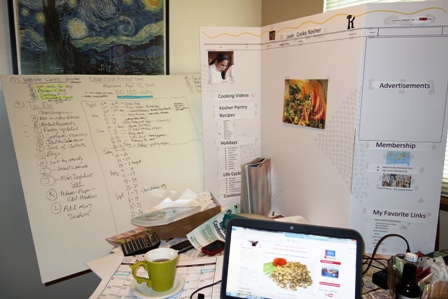 Taming the Great Outdoors
Posted: April 5, 2013

If you're like me, you are brisketed and chickened out. Trapped indoors for the month of March, I take Wednesday as a personal day. I can't focus on my backlog of event proposals, let alone tackle the invoicing and general bookkeeping. I'm outta here! Tony, my chef and ex-landscaper, is more than willing to pickup some hours after the erratic schedule during Passover. Apartment dweller that I am, all I need is an overgrown yard to tackle. Fresh air and exercise; I know just the place.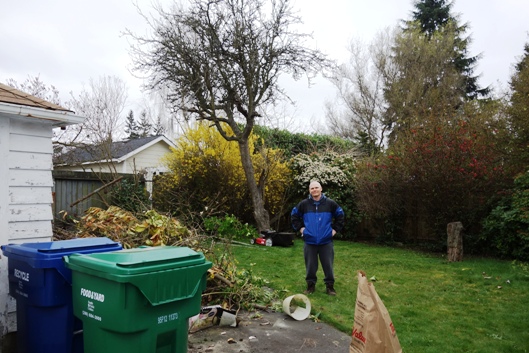 Passover Cleaning 2013
Posted: March 18, 2013

Passover cleaning.....this is my 8th year supervising the cleaning of Hillel UW for Passover. Supervising means watching with the eyes on the back of my head as I scrub my share of oven racks and interiors of refrigerators. Last year, watching the Rabbi use the pressure washer to clean tables and racks, I wonder ALOUD, very aloud, why we aren't using STEAM. Because we don't have a steam cleaner.
I'm not known for tact, an easy going demeanor or passive acquiescence. My father's "you can do anything you set your mind to" has translated into "people go to the moon and we send machines to Mars!" in my brain. I may not be able to build a TV, but I can RENT a steam cleaner. Benoit suggests a couple of places to call. I tell the gentleman on the phone what were doing and he tells me what I need; 313' F steam and water option with Eco-friendly degreaser pre-wash....delivered and picked up. Yes; ask me now "How is this year is different from last year?" Last year we were SLAVES, this year we have STEAM!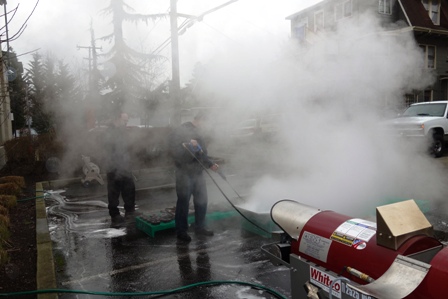 Of course, this doesn't necessarily mean that the job will be faster. No, it means I'm going after the roll down doors that close off the meat, dairy and parve kitchens. It means the walk-in fridge is getting blasted top to bottom. Coming out of the little hallway, I emerge from a sauna. My glasses are steamed over and there is water everywhere. Opening the reach-in fridges, I point Benoit in their direction. He blasts the interior. So easy, so clean.


Big Sky - Happy Purim!
Posted: February 20, 2013

It's been a couple of years since I've taken a real vacation. Booked solid for the past forever, a weekend is open. Unable to close the deal on a couple of events, I take it as a sign. I'm outta here! I don't have much time or the energy for anything exotic or faraway. I want air, I want space.....I want Big Sky!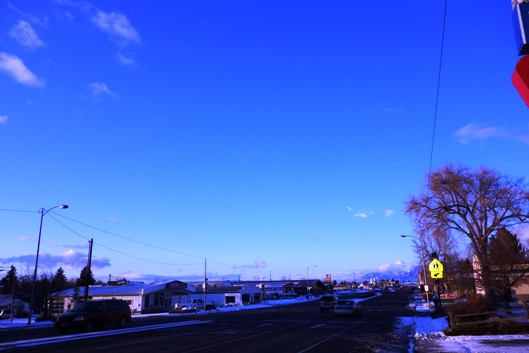 This is Bozeman, Montana. Hard to capture the expanse in 520 pixels. Hard to capture the 25' F not counting the wind chill. This small university town, gateway to Yellowstone and Big Sky skiing, is a few main drags. The terrain is so different from Seattle's cluster of hills and waterways. Flying into the airport, I see the town is situated on a plain flanked by mountains. Miles of deserted roads extend outward from the heart. I can breathe.