We are consistently voted "The Best Kosher Caterer" by local JTNews readers. Since my Orthodox conversion 18 years ago, I am dedicated to elevating the expectations consumers have about kosher food. The community has been supportive of my catering service in a way that goes beyond business as usual.
It is my good fortune to be from Seattle, a city renown for its foodies and eclectic social conscience. Within this Jewish community, we have a long-standing Ashkenazi and Separdi blend of food and ritual. I learn from some of the best Jewish mothers in the city ~ young and old! Through the pages of this website and over time, I look forward to expanding my own learning of the foods Jews eat; classic and trendy, vegetarian and vegan, gluten-free and dairy free.....and, all kosher.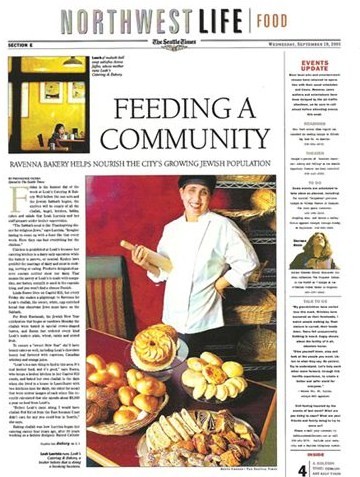 All aspects of Jewish life are expressed with food, both traditional and trendy. Kashrut adds layers of holiness and meaning. Join me in a community of Jewish cooks who are excited to share their regional specialties and global perspectives on food in a Jewish context. Become a Supporting Member ~ its' FREE! Build your profile, share your recipes and feel free to contact me with questions, requests and comments.
May we all be blessed for the love we share through food ~ Leah

Ready for Passover
Posted: March 29, 2012

There is something to be said for tradition; makes doing something over and over again that much easier. It's been a crazy busy first quarter catering. Cleaning for Passover was supposed to be an easy breeze as the University of Washington was on spring break last week. Less hectic in the kitchen, I start to strategize the clean.
With the end of Purim comes a more deliberate way of moving about the kitchen. Odds and ends of miscellaneous ingredients are either used, discarded or set aside to be given away. Every motion includes a minor nod towards the end goal of a spotless kitchen.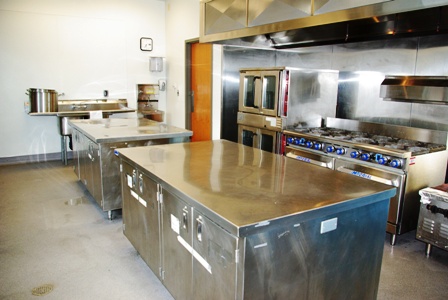 Oodles of Kugels
Posted: May 31, 2011

I'm a week behind in my life and frantically trying to catch up. Walking through the big box store today shopping for yet 3 more events, I decide that I need to get ahead of the game. Holiday after holiday may pass me by over the next couple of months....I'm heading straight to Rosh Hashana....soon. First, I want to post the results of the Kugel Throwdown that happened last week at Hillel. A joint effort of the Washington State Jewish Historical Society and JConnect, 15 contestants throw their kugels into the ovens. I learn a lot about kugels as I supervise the cooks in the kitchen.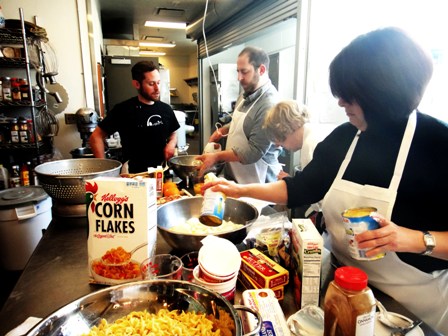 Guest Chef Joel Gamoran with his sous chef, and Carol with Joanne


Chabad of Bellevue and Issaquah Lag Ba'Omer
Posted: May 25, 2011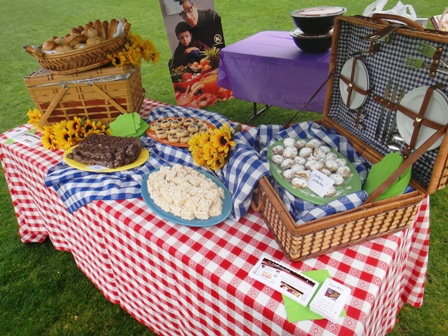 The Chabad of Bellevue and Issaquah hosts a huge turnout for Lag Ba'Omer last Sunday. Not having an event booked, I agree to set up a table offering complimentary treats. In exchange, I schmooze it up with folks I haven't seen in a while and talk up the website. I also get to stand in the great out of doors and take a whiff of nay-cha. We're situated in a well manicured park so I don't wear my off-road shoes. We don't hit the first 70' day of the year. We're spared the rain, I leave my down coat in the van.