Technical Difficulties
Posted: October 25, 2011

Just as everyone is scrambling to get a routine back after the holidays...or challah-daze, I am happy to report that I feel human again. Short work weeks and lots of cooking, LOTS of cooking, left me wondering where I was before the madness started. Taking stock of the unopened mail, unpaid bills, proposals sitting waiting to be done all the while juggling the 5 events I have this week, part of me wants to go back to bed.
Staying up until 2:30 am Monday morning, I do triage on the pressures pulling me all directions. Taxes and balancing accounts first, with Hillel expenses categorized, I can focus. My training at Nordstrom back in the day includes learning that balanced accounts clear the mind. Confirming details of my events this week, I know what I'm doing. What remains are proposals for January through June.....I need another week!
The website has suffered a bit through neglect. Not enough hours in a day, not enough days, my photo files sit waiting for me to upload recipes. I'll try to get one up next. I'm having some glitch uploading photos into the blog....hence, I've been quiet on the blog front for a few weeks. Got my guy on it now.
Working through my list, I know I'll be relieved when caught up.


It's A Shark!
Posted: September 19, 2011

Done! Done, done and more done! It has been a marathon since Tisha B'Av. Six weeks of back to back events ending with the Stand With Us reception prior to their very successful presentation yesterday at McCaw Hall. Sheer will eeks out savory and sweet tidbits for 475 guests. The event doesn't suffer for being the end of the line; my perfectionism streaks across the finish line.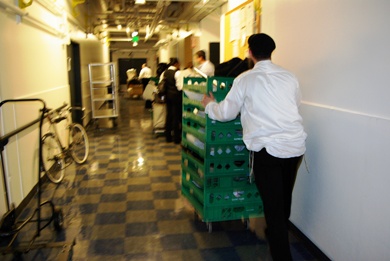 Very long hallways to the loading dock
Phillip, owner of Noshaway, has the next reception for The Jewish Federation. It's been a community day at McCaw Hall and lots of familiar faces are in the building. Phillip and I, viewed as 'competitors', have much in common given the market we serve. I consider him a friendly rival, we each have our followers. I made the decision long ago not do the jumbo sized, mega events. Too many plates, too much effort. Hats off to Phillip and Arthur for biting off that biz. Exiting the building, we pass Phillip and his wife Dana in the downstairs kitchen. "Have fun!".....


Making Choices
Posted: September 10, 2011

The last 6 weeks have been insanely busy with catering. The next week promises more of the same. Post Labor Day and pre-Rosh Hashana, erev 9/11 amidst a climate of economic uncertainty and terrorist threats, famine and floods, fire and general inane political postering, the climate is perfect for personal reflection. In fact, the climate here in the Northwest is perfect with sunshine illuminating our glorious landscapes and water ways. Light adds optimism to thoughts of what might lie ahead.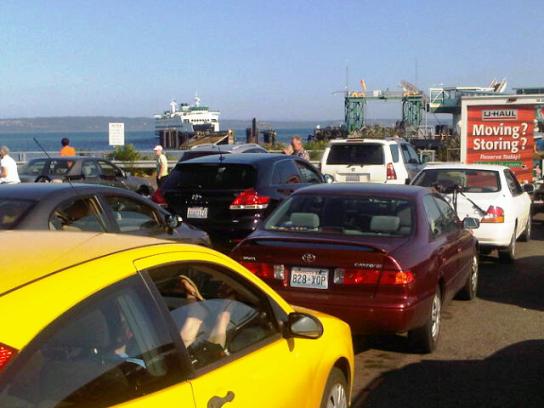 Raise the Debt Ceiling Already!
Posted: July 29, 2011

Being home most of the week, I keep the TV muffled in the background. In keeping with the spirit of Tisha B'Av, evil lurks in remote places and guns down kids in Norway. On the heels of the horrendous crime in Brooklyn, I wonder what is up with people.
The cable news channels repeat the same debt ceiling crisis situation with breathless anticipation, incredulous frustration and baffled intolerance. I'm exhausted from listening to scripted platitudes. Get a brain! The Rabbi has often said, with hopeful encouragement, that I don't suffer fools gladly. Yep, the Rabbi is very astute. So, I haven't written a blog this week; "if you don't have anything nice to say, don't say anything."


No Summer Vacation
Posted: July 17, 2011

Apparently, it isn't happening this year; I've made no plans to go anywhere. I've been to San Francisco, Acapulco, New York, and Bali in the past 15 months. I have no desire to travel. My catering schedule is lighter this summer with "the three weeks" being pushed into August. Traditionally, not a time for parties, I have an extended off-season. I'm enjoying time to decompress and not be crazy night and day. I like sleeping in until 8:30, I like staying up until 1:30 am. I still have a dinner here and there, a Kiddush now and then, but no brain straining logistically challenging major event….but soon. No, I'm enjoying the down time. I'm enjoying my family and friend time.