Passover - Done!
Posted: April 24, 2011

Passover looms ahead once December rolls around. Menus, estimated numbers, and the game plan are pretty much completed by the start of the secular year. January and February plod along with their deep winter sleepy schedules. A few weeks out from Purim, the anxiousness starts to creep in and Passover begins to press harder against my consciousness.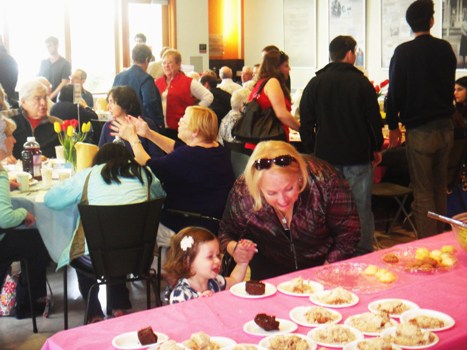 This year, just for fun, I added 2 catering events to the schedule a week before Passover. The final phase of this website is due to launch and I needed more cash to cover the programming. I'll be the first to admit that possibly, just possibly, I over did it. But, here we are on the other side of the craziness and I'm alive to report the detail. Today, I finished up things in the kitchen for tomorrow's matzoh ball contest. While I was doing that, the rest of the Passover cooking equipment went back into hibernation.


Happy Passover ~ yep, 6 more days!!!
Posted: April 20, 2011 pm

I can't believe I didn't send an email blast wishing everyone a happy and kosher Passover. Luckily, luckily, we here far beyond the borders of the Holy Land have SIX, count 'em, more days of Passover. So, I can still wish everyone who has been logging on to the site a very happy, hopefully restful remainder of the holiday. I know that many are fortunate enough not to have to work during chol hamoed. I know because I get to see about 800 of your faces for meals Thursday and Friday while I'm working. I'm looking forward to a fun time. Seriously, the tough days are behind me....the rest is a good time.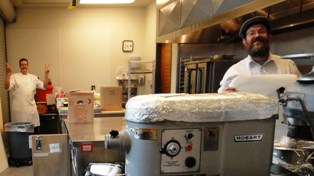 Frank and Rabbi Aryeh (less stressed last summer)


Cleaning for Passover Olympics
Posted: April 3, 2011

Like all extreme sports, Passover Cleaning requires years of practice to get the maximum result with the least amount of energy spent. This is our 7th year catering the Passover Seder and community lunches at Hillel UW. The Karen Meyers Gamoran Center for Jewish Life gets a workout this time of year. Every corner of the building is used; for cooking, eating, working and storage.


The Chometz-mobile
Posted: March 29, 2011

I start thinking about Passover around Thanksgiving; wondering if I should buy lottery tickets or get on JDate in hopes of getting out of cooking for Passover for the community. I don't like the feeling of losing or being out of control....so, I don't buy tickets or renew my subscription to JDate. By December, the vendors are looking for orders for kosher for Passover ingredients. I then start bugging Kris about whether or not I'm doing the Passover program at Hillel. It is actually a very fun community event. A huge first night seder followed by chol moed lunches. Depending on how the holiday falls out, the number of lunches varies. This year is like last year, fairly easy. Only 1100 meals. By January, all the menus are done.


Not Making Hamentachen
Posted: March 17, 2011

Last month, struggling with jet lag, I review my workload and conclude that I can't make hamentachen this year. I feel badly for my regular customers. Last year we make "Hamentachen for Haiti", joining forces with the Stroum Jewish Community Center. With their huge role as a community gathering center they serve as point of sale. Assessing the retail potential, I know we can sell our usual 13,000 hamentachen over the week of Purim. I employ my old Nordstrom buyer skills for merchandising: stack it deep and sell them (not so) cheap.
With the help of the community, we make our goal. But, with Passover on our heels, we never adequately acknowledge everyone for purchasing so much hamentachen. After covering expenses, we donate $3600 to earthquake relief by sending a check to the Chabad of the Dominican Republic to purchase supplies to truck to Haiti. I want to thank everyone now for their purchase and contribution to the cause.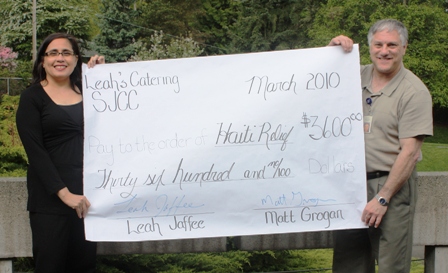 I can't believe that there is another huge earthquake/tsunami/nuclear reactor disaster in Japan.
I wish I had the time to do another fundraiser this Purim. I can only make what I need for my events.....I am not making hamentachen this year, only 2,000 of them.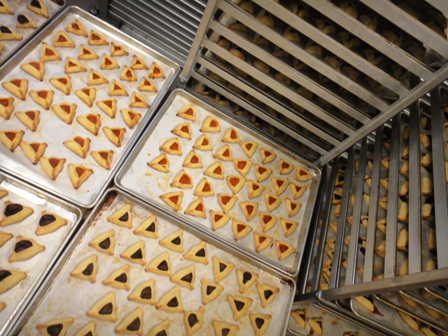 But, with or without hamentachen, I know the community is generous and supportive of those who have lost so much.
Wishing everyone a happy, fun and grateful Purim.